Pasta with creamsauce and scampi
The creamy sauce is the light topping for a summer dish.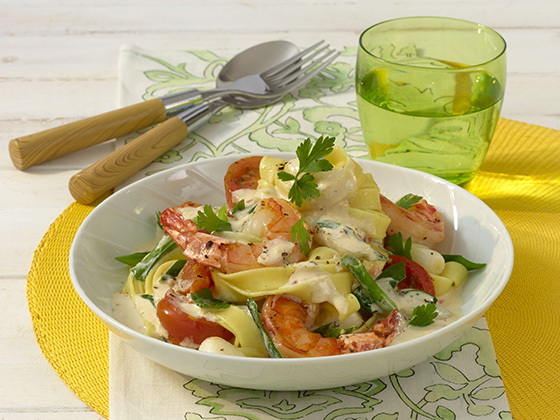 Preparation
1. Rinse scampi and pat dry. Heat 1 tbsp oil in a frying pan and sear scampi. Remove scampi from pan.
2. Peel and chop garlic. Clean, wash and cut spring onions into fine rings. Wash tomatoes and cut into segments. Heat remaining oil in frying pan. Brown spring onions, garlic and tomatoes. Deglaze with chicken broth and leave to simmer.
3. Add whipping cream, bring to the boil and thicken a little. Add scampi to sauce. Season with salt, pepper and lemon zest and serve with pasta. Add chopped parsley as preferred.
Preparation time approximately 15 minutes
Cooking time approximately 20 minutes
Print recipe