Mozzarella pizza
The real pizza taste with tasty Oldenburger Mozzarella for you and your guests.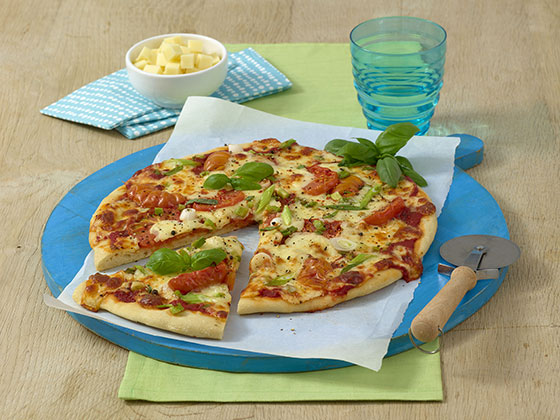 Preparation
1. Mix flour and salt in a bowl. Dissolve yeast in 125ml lukewarm water. Mix yeast mixture and oil with flour to form a smooth ball of dough. Leave dough covered in a warm place to prove for approx. 1 hour. Wash tomatoes and cut into segments or slices. Season tomatoes with salt, oregano, pepper and chilli. Wash, clean and cut spring onions into rings.
2. Preheat oven to 220 degrees (fan oven: 200 degrees, gas oven: gas mark 5). Roll pizza dough into two round dough bases and place on a baking tray lined with baking parchment. Spread a layer of tomato sauce onto the dough and top with chopped spring onions and slices of tomato. Cut mozzarella into cubes and distribute over the pizza.
3. Bake pizza on the bottom shelf of hot oven for approximately 20 minutes. Season with salt and pepper, garnish with parsley and enjoy immediately. Ready-made pizza bases can also be used, if preferred.
Preparation time approximately 25 minutes
Baking time approximately 20 minutes
Waiting time at least 1 hour
Print recipe