Meatballs in creamy pepper sauce
Start your meal with a creamy savoury snack.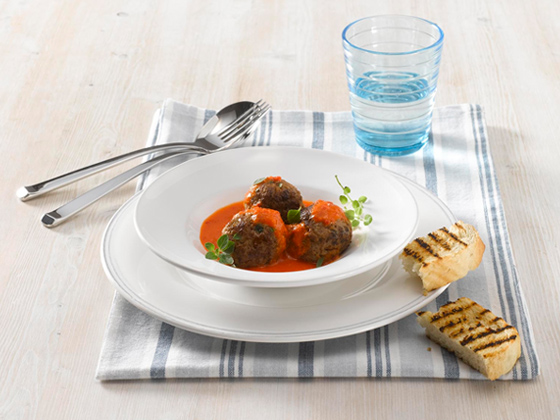 Preparation
Peel onions and garlic and dice finely. Trim, wash, halve and deseed peppers. Dice half the peppers roughly and the other half very finely. Heat 1 tbsp of oil in a pot. Add half the diced onion and garlic and the roughly diced peppers to the pot and sweat them for 2 minutes. Add vegetable stock and Oldenburger Culinary Cream, cook at medium heat with lid on until vegetables are soft (about 15 minutes).
Steep small slices of bread in cold water, wash oregano, shake it dry and chop leaves finely (reserve some leaves for decoration). Squeeze bread thoroughly and knead together with the finely diced pepper, remaining diced onion and garlic, minced beef, egg and chopped oregano leaves. Season with salt, pepper and ground paprika. Form mixture into 16 small balls. Heat the remaining oil in a frying pan and fry the balls for approx. 7 minutes until golden brown on all sides.
Puree sauce with a stick blender and pass through a sieve. Season with salt and pepper and keep warm. Place meatballs with the pepper sauce in small tapas dishes, scatter oregano leaves over and serve with toasted white bread.
Print recipe