Mango-Cream-tart
Provide your guests with an exquisite fruity cream-tart.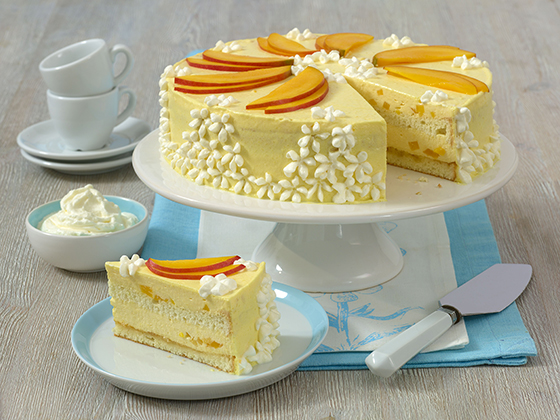 Preparation
1. Preheat oven to 180 degrees (fan oven 160 degrees, gas mark 3)
2. Separate eggs. Beat egg whites and salt with a hand mixer until stiff. Gradually add vanilla sugar and sugar and continue to beat until sugar has dissolved. Stir in egg yolks. Mix flour and baking powder and gently fold into the dough. Line the base of the springform tin with baking parchment. Pour in dough, spread evenly and bake for approx. 25 minutes until golden brown. Leave sponge to cool completely on a cooling rack, remove from tin and cut through horizontally.
3. For the mango cream, soak the gelatine in cold water. Drain mangos in a sieve. Purée 2/3 mango, lemon juice and sugar. Cut remaining mango into cubes. Squeeze gelatine and melt in a pot (do not boil). Stir 2 tbsp mango purée into gelatine. Mix gelatine-mango mixture into remaining mango purée and put into the refrigerator. Beat 600g cream with a hand mixer until stiff. As soon as mango mixture begins to set, fold in whipped cream. Remove ¼ of the mango cream and keep at room temperature.
4. Place bottom layer of sponge in a cake ring. Spread bottom layer with marmalade, half the mango cream and half the mango slices. Place the second layer on top, spread with remaining mango cubes and mango cream. Leave tart to set in the fridge for at least 3 hours.
5. Beat remaining whipped cream until stiff. Remove 5 tbsp and cool. Fold remaining cream into rest of mango cream. Then spread all over tart. Cool for another 30 minutes.
6. Fill remaining whipped cream into a piping bag with flower tip. Add cream flowers and decorate with mango slices as preferred. Chill tart again and eat within 3 hours of decorating with fresh mango.
Preparation time approximately 30 minutes
Baking time approximately 20 minutes
Waiting time at least 3.5 hours
Print recipe