Chicken Curry with Vegetables
Experience a creamy culinary delight.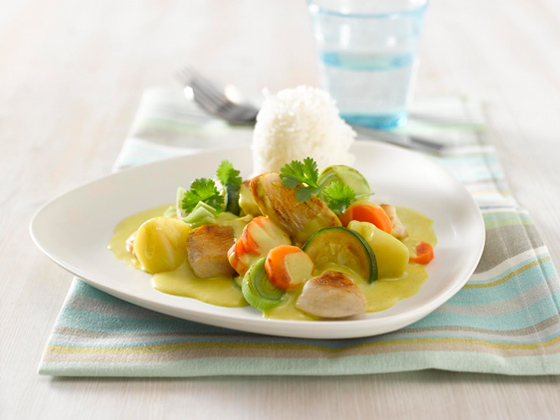 Preparation
Rinse chicken breast, pat dry and cut into pieces of approx. 4cm. Wash, peel and dice potatoes into cubes of approx. 2cm. Wash courgette, halve lengthways and cut into 1cm thick slices. Peel carrots and cut into 0.5cm thick slices. Cut leek open lengthways, wash and cut into 1cm thick rings.

For the masala, grind coriander seed, cumin and star anise finely in a mortar. Mix with the turmeric, chilli, lemon peel and lemon juice.

Heat oil in a pot. Add chicken pieces and brown until golden. Add vegetables and sweat them briefly. Season with the masala, salt and pepper and add chicken stock. Cook curry on a low heat for approx. 17 minutes until sauce thickens. Stir cooking cream into curry immediately before serving. Sprinkle with coriander leaves. Serve with basmati rice.
Print recipe